This years American Music Awards was PACKED with a roster of amazing artist doing amazing performances. Although Country reigned supreme, they left room for the crowd to get into an empire state of mind and the antics of Lady GaGa. (the images used in today's post do not all reflect the performances last night)




Opening the night was
Janet Jackson
. Unsurprisingly so - she turned it out! With a medley of some hits as well as a snippet of her new single
"MAKE ME"
prod by
DarkChild
. With an array of backup dancers the visuals were def in the building. The only down side id have to say was her HEAVY looking wardrobe. & i wished SHE would went on stage to receive all of MJ's awards - the brother is just STRANGE!

After Janet's performance Daughtry took the stage. The lead is hot - the performance was flawless. All in all great performance by their part.


Accompanied by marching females; Shakira in a disco ball glass cut dress performed. It was very Ciara but way raunchier! I loved it - her voice was on point for this performance. This new Dance/Pop sound shes going for on this sound is amazing. Good Job Timbo! The song Give it up To me is def set to be a radio hit! Its hip-Arabian sound that gets pinned to the Colombian beauty is def a great one. - plus it allowed for gyrating hips and pussy popping.
Keith Urban later took the stage playing his hit single 'Kiss a Girl' - cute performance from a cute country hunk. - not much else to say. the country performances never really do much for me or the crowd. & Dear god Kelly Clarkson took the stage after a warm welcome by Reba McIntyre. Somebody PLEASE help Kelly lose the weight - we are losing you! She sounded beautiful although a very bland performance I'm sure the viewers were more analytical of the weight than her sound =[
Alex Rodriguez
came on stage to present
Jay-Z & A. Keys
as they were about to perform, only fair since NEW YORK won the series (woot woot) - *giggle*
Kate Hudson
presented an award after...HOW YOU DOING! The performance of
Empire state of mind
was opened by Keys doing a 'NEW YORK' snippet. Jay-Z looking spiffy as always slayed it with the hype & Alicia did not fail to impress with the cut out back boyfriend blazer held up by beautifully cut stones and a up-do to die for! Kudos the the stylist of that performance - great job. Alicia keys hit the stage for a second time to perform
' To sleep with a broken Heart'
A Minor Black Eyed Pea's tribute which they then performed 'Meet Me Halfway' their newest single & a medley of others. It was ok, the styling was off the wall - but cohesive. The performance lacked SOUND! Although it rivaled a beautiful accapella rendition by Fergie the rest sounded a mess with no music. Will.I.Am was buggin with the wigs and ish. On that note - can we have another album just Fergie? PS be sure to check her out in her first major film role in a Broadway play turned motion picture. She plays a Prostitute alongside Kate Hudson & Nicole Kidman. Moving along now ...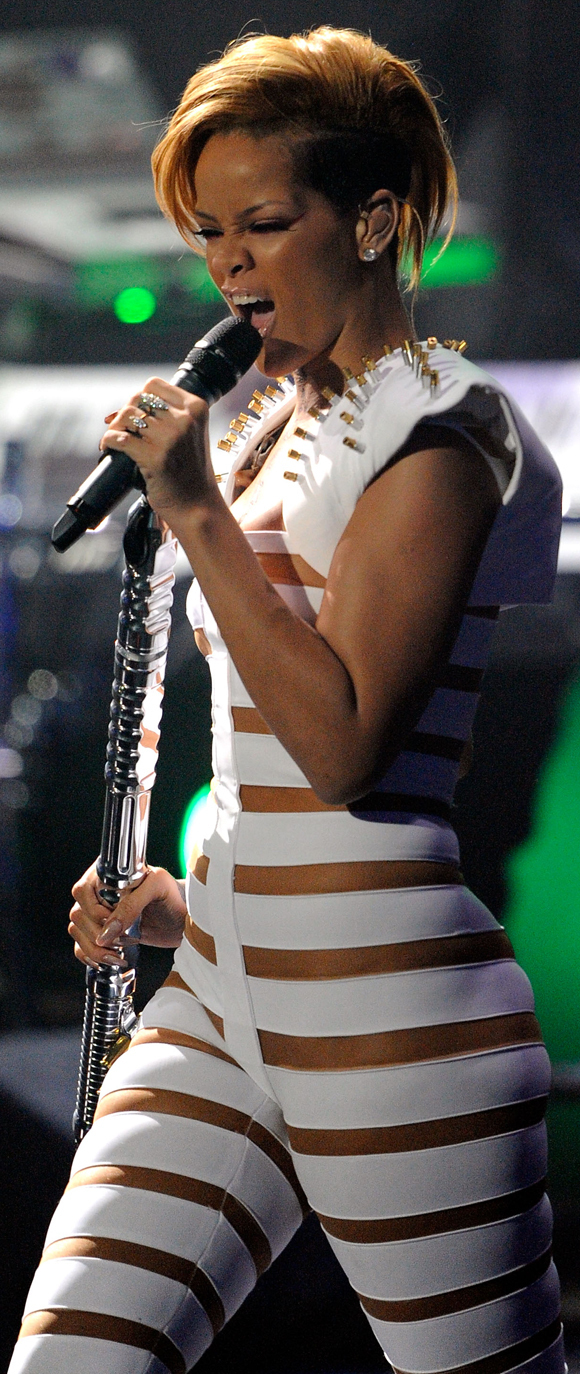 Ne-Yo introduced Rihanna! Intro by a 'MADHOUSE' Film it was very FAME BALL-ish. But i was feeling the video as a visual, Organs turned into the 'Wait your turn' beat in which RiRi was on a spinning body plank in a VERY revealing outfit. After that song she did an amazing performance to her Third single HARD - minus jeezy. Think of rihanna as a more lively hot mummy last night. & she has a thing for a rocker performers style i.e. Shut up & Drive video. Ps her album comes out TODAY! Rated R in stores NOW!

From Mummy's to bayou ladies - Carrie Underwood performed her latest single in a old western bar kind of way. It was cute although she wore a gold & black dress with silver shoes.

But the next performance was the most entertaining of the night. Lady GaGa hit the stage singing her song BAD ROMANCE & SPEECHLESS both on her latest album that is out today! THE FAME MONSTER get it!! Of course she hit the stage in a strange but fashionable ensemble - skeletal chest and head piece along with bone heels, she danced MONSTROUSLY and FIERCELY with the LaurieAnn Gibson routine. The dancers leave and GaGa goes mad ! Takes the mic stand and smashed a glass box in which she will perform her second song SPEECHLESS - a song in dedication to her father with Whiskey bottles & a burning piano - you have to give it to this amazing woman. SHE PUTS ON A SHOW!
Along with an amazing performance, she sadly didn't take home ANY awards. She even lost to Taylor Swift for artist of the Year - mind you the nominees were TAYLOR SWIFT, MICHAEL JACKSON, LADY GAGA & KINGS OF LEON. Where was Kanye when you needed him? Or Joe Jackson? or even Kermit the Frog?! Pity fest for her i swear. I think out of respect the AMA assoc should've then thrown in a MJ tribute - its the AMERICAN MUSIC awards for god sakes, you cant mention American music without the king of POP.

But Before they announced Artist of the Year there were MORE performances including a song off of Mary J Blige's album. She looked AMAZING! After a strange win from 'Gloriana' (shrugs shoulders. J.Lo performed her latest Single LOUBOUTINS written by BRANDY. The performance setting made no sense or co relation to the song & she didn't even wear Louboutins till the last 3 minutes of the performance. Now the great part was when she climbed the dancers backs jumped off & FELL on her ass! But like the true performer she is; got right up and did her small dance break. Hubby Marc Anthony was in the stage supporting the whole time though. Ps she fell in sneakers not her Louboutins, the irony.

Samuel Jackson took the stage to present Whitney Houston with the International artist of the year award. Followed be an emotive performance of her song 'I DIDN'T KNOW MY OWN STRENGTH.' Standing ovation and teary eyed the public stood to applaud the queen for an amazing comeback! We Love you Whitney!


Another artist who let himself go, Timbaland! Although a great performance of 'Morning after Dark' ft SoShy & Nelly Furtado. And let me tell you Nelly looked too damn good on that stage & who knew this song had anything to do with the recent Vampire craze. Followed by a GreenDay performance to 21Guns.
The closing performance was the MOST controversial. Adam Lambert came out the closet now wanna shove his sexuality down our virgin eyes! He wanted to do too much with this one performance. It was very Cirque de Soliei meets Britney meets Madonna meets Rihanna meets TaTu, lots of crotch grabbing, leather and weird molestation by him to the dancers. He even kissed a band member to prove suttn....sad. He's a newbie, he learn that was WRONG!
WELL THERE YOU HAVE IT! The AMA's through the eyes of Liife&Such.
Oh PS here is the gossip! While Jay-Z was giving his speech for winning , chris brown goes on twitter and calls Jay a CORNBALL! Then tries to make it seem like WE blowing it out of proportion but HE kept speaking about it. SOMEONE please help this boy not further damage his career. His life needs some major damage control right about now.